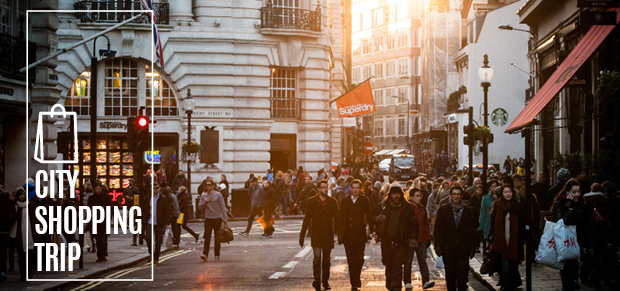 Every Christmas you can be guaranteed that there will be a last minute dash to the shops to pick up those final pressies and stocking fillers. So this year, why not avoid the Christmas shopping chaos and plan a little overnight shopping trip and treat yourself to a night away! To help you plan your pre-Christmas shopping trip, we've put together some top city hotels, and they're all close to the best retail stores in the country!
Belfast is a real shopping hot spot right now and it's little wonder when the city boasts great shopping centres like Victoria Square and Castlecourt along with the many other wonderful stores in the city. The Travel Lodge Belfast is in a fantastic central location and just a short distance away from the city centre, it's the perfect base for a shopping trip to Northern Ireland.
Maldron Hotel Tallaght is a fantastic base for a shopping trip to the capital city. It's located roughly 9 miles outside of Dublin's city centre shopping district and is easily accessible by the Luas red line which is just a 5 minute walk from the hotel. The Square shopping centre is adjacent to the Maldron if you happen to have forgotten anything in the city stores! The hotel itself offers secure underground parking for guests and boasts wonderful leisure facilities. Great for unwinding after a hard days shopping!
Dublin's North Star Hotel has an amazing central location right in the heart of the city. The hotel is just a stone's throw away from Connolly Station and Bus Áras, perfect for those travelling to Dublin. The shops are just a short walk away so it's a great choice of hotel for your pre-Christmas shopping break.
Radisson Blu Hotel and Spa Cork
The Radisson Blu hotel and Spa in Cork is set on 9 acres of lovely green gardens yet is just 15 minutes away from Corks lively city centre. Cork city is full of trendy cafes, restaurants and has a great collection shops especially along its newest shopping district, Opera Lane. Not only is the hotel perfect for a shopping trip, it's also close to Corks popular tourist towns of Cobh and Kinsale should you want a break from the shopping.
Galway is the shopping capital of the west of Ireland and rightly so as it boasts a great range of shops as well as bars and restaurants to unwind in after a shopping spree. The Clayton hotel in Galway is located just minutes outside of the vibrant city centre and the perfect base for a shopping trip in the west. You can be sure you'll get a warm welcome and friendly service throughout your stay.
So if you're now considering hitting the shops before Christmas, all of the hotels listed above and over 600 more can be booked on Irelandhotels.com. Happy Browsing!