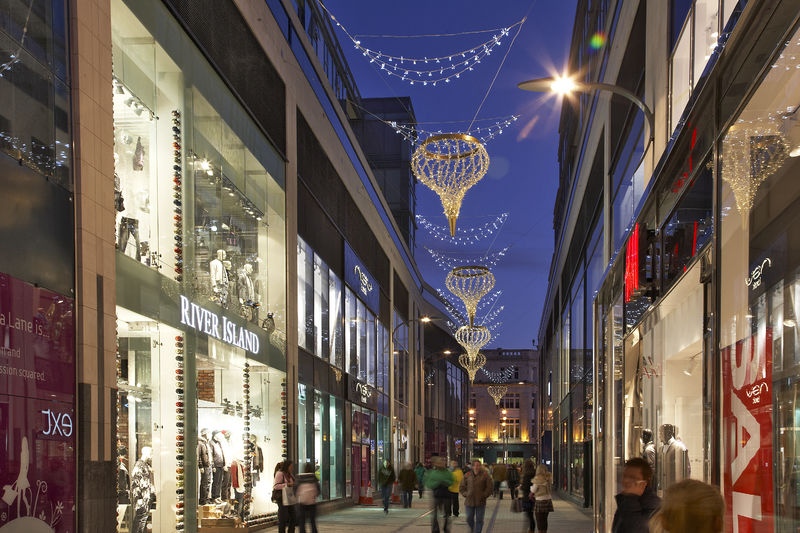 Best Shopping Centre Venues in Ireland
For a small country, Ireland has got some pretty great shopping venues. With Christmas just a few short weeks away and the stores already starting to fill up with selection boxes and the likes, it's time to start seriously thing about Christmas shopping! So to help you plan your Christmas spending spree, we've made a list of some of the best shopping venues that Ireland has to offer!
Blanchardstown Centre, Dublin
With over 180 stores, 7,000 free parking spaces and 3 retail parks, an Odeon cinema and Kids Club, the Blanchardstown Centre is a brilliant shopping venue. All the leading retail stores are together under one roof including BT2, Marks and Spencer, Aldo, Jack & Jones, H&M and Dorothy Perkins at Blanchardstown Centre, plus many of them including Dorothy Perkins and Diesel offer 10% student discounts. When it comes to dining, you're spoilt for choice as TGI Friday, Nandos, and Milano, who are offering a €10 lunch deal along with the typical fast food restaurants all onsite. And if that isn't enough, Blanchardstown Ice Skating returns this year to guarantee you a fun filled trip and Santa Claus will be arriving by helicopter on November 14th to give the kiddies a real treat!
Mahon Point Shopping Centre, Cork
Located just a 15 minute drive outside Cork City, Mahon Point Shopping Centre is an excellent shopping venue. It boasts stores including Debenhams, French Connection, Bershka, Next and Tommy Hilfiger, so ticks all the boxes if you're looking for the latest fashion trends. Mahon Point also has great places to eat including Ristorante Del Arte and Hillbilly's Pizza and Wings, or if you just fancy a cup of coffee and a sweet treat there's always Starbucks or Insomnia. Not only does it cover all of your fashion needs, but it also has a 13 screen Omniplex cinema on site and a farmers market with over 50 stalls selling delicious locally produced foods and artisan products, perfect for a stroll around in the afternoon. Finally, Cork on ice returns this year and early bird tickets are on sale now!
Crescent Shopping Centre, Limerick
The Crescent Shopping Centre, located in Dooradoyle, just a 15 minute drive outside if Limerick City is a great option for shopping in the mid-west. It's cool, cross shaped layout and trendy décor as well as the excellent range of stores including Heatons, JD Sports, Sketchers, Swamp and Pandora; make a trip to the Crescent shopping centre a great experience. Like most great shopping venues, there's a state of the art Cinema, plus they've got great options for dining and something for all tastes from Italian Ristorante Del Arte who offer a great 'Movie Meal Deal' for €16 (meal, free drink & Cinema ticket) to American Diner chain Rockin'Joe's. The Crescent Shopping Centre is ideal for a 'date night' or for picking up the perfect Christmas Gift.
Victoria Square, Belfast
Victoria Square is arguably the very best shopping experience in Northern Ireland. It's ultra-modern and trendy design; excellent central location and extensive list of high end stores make it a shopper's paradise! It's got all of your high street favourites in one place such as Superdry, Topshop, River Island and Mango as well as the more high-end stores such as Ted Baker, House of Fraser, Karen Millen and Kurt Geiger and many many more. It's second to none in the entertainment and dining stakes as it boasts an excellent range of eateries from Pizza Express, Frankie & Benny's to Wagamama and YO! Sushi. If you're thinking of taking a trip here, you won't be disappointed!
Dundrum Town Centre, Dublin
A list of the best shopping centres in Ireland would not be complete without a mention of Dundrum Town Centre. Dundrum town centre is exactly that, a centre in a town with so many things to do in one place. It really is the cream of the crop when it comes to all round shopping venues. With an enviable range of stores with absolutely everything form House of Fraser to Hollister, to Best Menswear to Gap as well as high street favourites such as Penneys, H&M, TK Maxx and River Island, Dundrum ticks all the boxes in the fashion stakes. For the kiddies there's the highly popular 'Build a Bear' store as well as the amazing Hamleys Toy Store. It's fantastic in the entertainment stakes too and has something for everyone including celebrity chef Jamie Oliver's restaurant 'Jamie's Italian', Frangos World Cuisine, Mao Sushi and Dante Pizza plus all of the fast food options too such as McDonalds, KFC and the likes. There's even a crèche to drop the kids off for some fun, leaving you some free time to pick up the Christmas pressies. To top it off, Dundrum on Ice returns this year to provide some extra entertainment for all the family.
If you're planning a shopping trip then why not make an overnight trip of it? We've got tons of special offers available right in all of these locations now on Irelandhotels.com