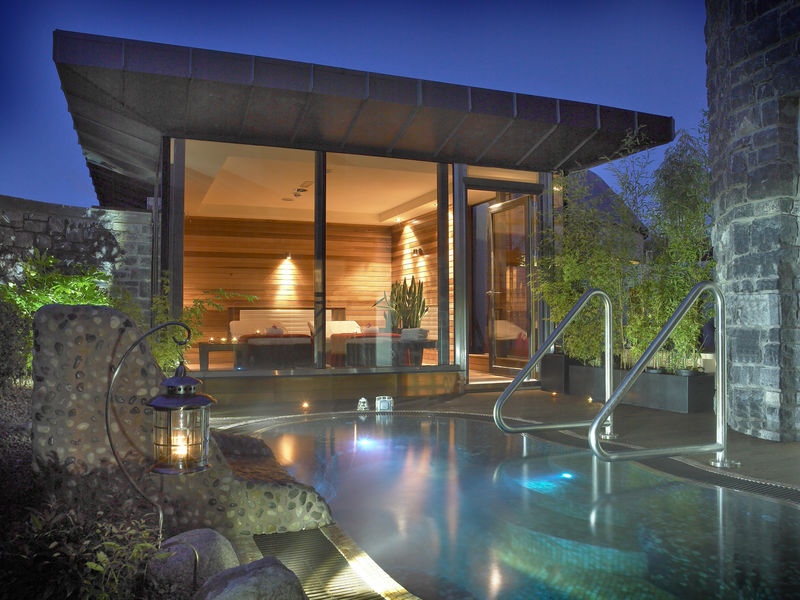 Hotel with great Gyms and Leisure Centres

The New Year's health and fitness plan is well underway and motivation levels are high! If you're thinking of planning a relaxing getaway to beat the January blues but don't want to veer too much from your fitness resolutions then you're in luck because we have picked out some hotels with great gyms and leisure centres.
The four star Garryvoe hotel, situated in East Cork and a 45 minute drive outside Cork City is fabulous place to stay. Its health club has been awarded a white flag of excellence and offers a top quality, luxurious experience to members and guests. The 1200 square feet gym contains 40 pieces of state of the art equipment and the experienced staff are happy to help and offer advice. You've also got the sauna, steam room and outdoor hot tub which will leave you feeling invigorated! There's also a wonderful dining experience at the Garryvoe hotel, you can choose from the bright and modern Lighthouse Bistro or the Samphire Restaurant where they serve the finest of local cuisine.
Limerick's Maldron Hotel and its white flag winning Club Vitae Health and Leisure Centre are the perfect place to stay and relax in the mid-west. Limerick is full of things to do and attractions to see such as the Angela's Ashes Walking Tour or even a river Shannon cruise and of course the shopping too. What better way to relax after hitting the many shops of Limerick city than taking some time out in the steam room or sauna or even taking a leisurely swim to help you relax after a busy day exploring all that Limerick has to offer. There's also a fully equipped gym with air conditioning with an aerobic studio and an abs/stretch area too. The Stir Restaurant and Stir Bistro provide a lovely dining experience and cater for all tastes, kids menus are available too!
Offering a fabulous spa plus gym and leisure facilities, the Holyrood hotel in Bundoran is ideal for a getaway this year. Bundoran is regarded by many as the surfing capital of Ireland so if you're feeling up to it, you can hit the waves. Taking to the waves of the Atlantic Ocean is bound to leave you feeling fresh and perhaps a little cold! It's also the first discovery point on the Wild Atlantic Way so there's lots of scenery close by. You can explore the Wild Atlantic Way in the daytime and afterwards you can relax in the swimming pool, sauna or Jacuzzi, treat yourself to an indulgent spa treatment or even get in a work at the gym. In the hotels Watermelon restaurant you will find a range of both local and international dishes made with fresh local produce. You'll be sure to leave feeling fresh, relaxed and rejuvenated.
Where better to escape to for a break than the Westport Woods Hotel. It's set on beautiful wooded grounds just outside of Westport town. You can avail of the 18 metre pool or try out the state of the art gym, or if you'd prefer, you could always take a leisurely walk around the beautiful grounds or stroll into Westport town. If you're feeling adventurous there's the western section of the Wild Atlantic Way or if you'd like a challenge, you could tackle Croagh Patrick which is just a short drive away and take in the breath taking views from the peak!
Whether you're a regular gum goer or are a first timer the Ardilaun hotel Galway is the perfect place to keep fit while you're away from home. It's got something for everyone at all levels of fitness with treadmills and bikes for the beginners who want to ease themselves in at their own pace and strength and resistance machines for the more experienced gym goer who may want a more intense work out. The hotel is also conveniently located just outside of Galway city centre in the suburb of Salthill so you're still close to all of the action in the city which is full of trendy shops, restaurants and sights such as Eyre Square and the Spanish Arch but with the bonus of being on the outskirts. The hotels leisure centre boasts an 18 metre Greco Roman style pool, therapeutic Jacuzzi bath plus a sauna and a steam room as well as a fully equipped gym!
So there you have it, Irish hotels with great gyms and leisure centres! All of these hotels are available to book now on Irelandhotels.com.